Whether being watched or physically played, gaming is one of the biggest and most popular hobbies in the world. Since the release of the first game console in 1972, the video gaming industry soared from a small niche market to mainstream with the interest in new technology rapidly growing. The Magnavox Odyssey pioneered the industry and led us to the incredible technology we have today such as ray tracing, haptic feedback and adaptive triggers that can be found in the highly sought after Playstation 5.
As the Magnavox Odyssey gained popularity and interest, a small-yet-devoted community began to emerge, and people with disabilities saw the immediate value of what the video gaming community could offer them. As such, video game developers and companies began to focus on accessibility in their software and cultivating assistive technology solutions to promote their companies and games in the press.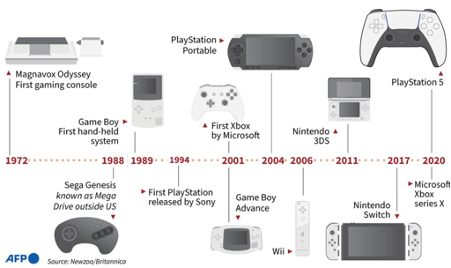 People with disabilities are at a heightened risk of social isolation. However, video games can be the perfect gateway to community participation, lifelong friendships, and unforgettable shared experiences. This is why it's crucial to ensure these experiences are developed with accessibility as a priority and inclusion as the goal. At Adapt-IT, we strongly believe that everyone deserves to experience the wonders of gaming and socialising through the internet. Unfortunately, it is not a simple task for everyone which is why our products and services are so important. The work of organisations such as AbleGamers and SpecialEffect is also essential in making gaming accessible for everyone to enjoy, no matter what difficulties you may face.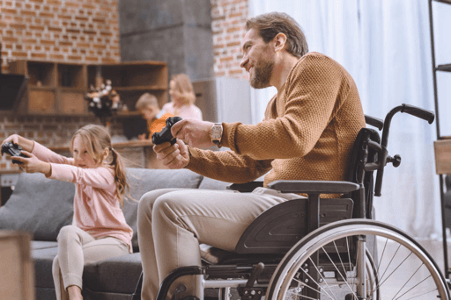 Xbox Adaptive Controller
On the 4th of September 2018, Xbox released its official adaptive controller to help make user input for video games more accessible and open up a new world of socialisation and entertainment for people with disabilities. In 2015, a team of engineers at Microsoft's Xbox and gaming division, began working on a prototype controller to help improve accessibility for video game input. The device was designed and refined during several internal hackathon events where they built a controller that could use third-party accessories familiar to disabled gamers.
In 2017, Microsoft decided to turn the prototype into a product and began collaborating with accessory manufacturers and nonprofit groups in the gaming accessibility field such as SpecialEffect, Warfighter Engaged, The Cerebral Palsy Foundation and The AbleGamers Foundation. The gaming division also collaborated with a handicapped gamer known as, Randy "N0M4D" Fitzgerald.
According to Phil Spencer (Executive Vice President of Gaming at Microsoft), the Adaptive Controller is not hardware-locked to Xbox and was developed with the intention to be used with any gaming platform, with Microsoft opening dialogue with Valve, Nintendo, and Sony towards this effort.
Hori Flex Controller
Leading accessory manufacturer in Japan, Hori, have also released an accessible controller but designed specifically for the Nintendo Switch. The Flex Controller can be used on Windows 10 PC's, as well as the Nintendo Switch. Much like the Xbox Adaptive Controller, this product allows users to use external switches and joysticks to play video games with ease. Along with the controller, Hori also created a Flex Controller Settings App for Windows 10 that allows the configuration of each switch and joystick including novel settings such as double press interval, 'ignore repeated press period' for users with tremors and programmable dead-banding, orientation, and sensitivity for the joysticks.
Once all required settings have been programmed, they may be saved in one of 12 Profiles and recalled as required. You can have 6 profiles for Nintendo Switch and 6 profiles for PC. The Flex Controller can be mounted by using ¼" bush on the back of the unit.
Please note that Flex Controller cannot be used with Nintendo Switch Lite, nor with Nintendo Switch in handheld mode.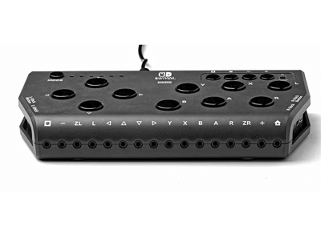 Pretorian Game On 1
UK based designers, developers, and manufacturers of assistive technology, Pretorian Technologies, have also released an accessibility controller in the form of the Game On 1. The Game On 1 allows users of eye-gaze enabled AAC devices and computers to achieve full control of computer games using only their eyes. It may be used to play games either on a standard PC or an Xbox via an Xbox Adaptive Controller (previously mentioned). The user's AAC device, such as a Gridpad running Grid 3 or a computer, displays a special gaming Gridset with a similar layout to a standard game controller handset. The Gridset may be easily customised for particular users and/or particular games, a feature which is especially useful when the user has low cognition and would be unable to understand a full game controller layout. Editing the grid set is particularly beneficial when using Game On 1 with Xbox Co-Pilot.
Additionally, Smartbox offers a Gridset download library which also allows user-generated Gridsets to be shared for the benefit of everybody in the disabled gaming community. Up to six gaming Profiles can be stored and recalled, either using the keypad or directly on the AAC device using eye-gaze. Profiles are useful both for customising the gaming experience for individual games or users, depending on their preferences and needs.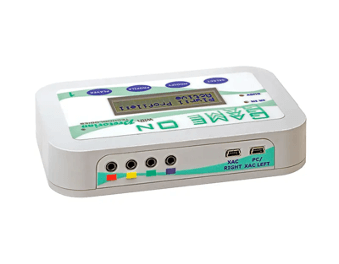 Pretorian Quester
Quester by Pretorian is a series of products, designed specifically for pc gaming. The products are a joystick and a switchbox.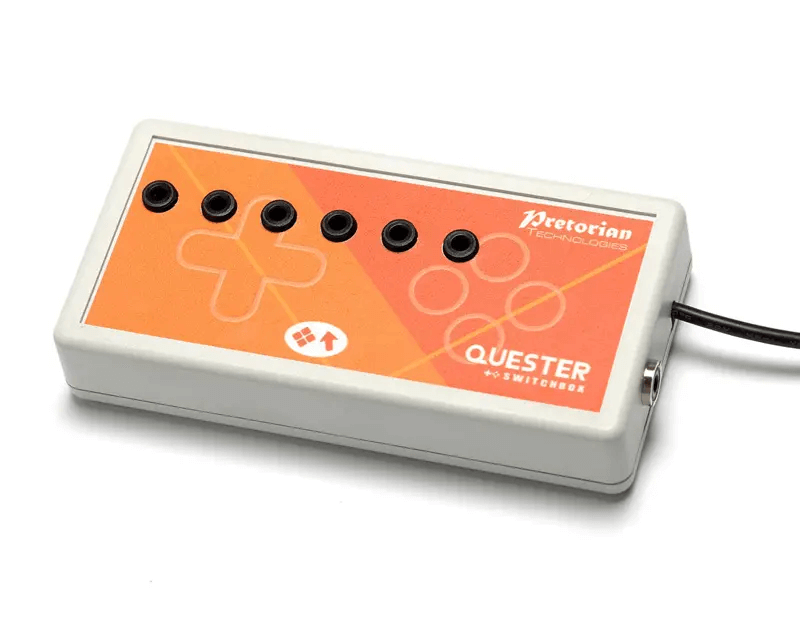 The joystick operates in one of the following three modes and changing between them may be easily achieved either using the middle button or a switch plugged into the right-hand 3.5mm jack socket:
WASD Mode
Arrow Key Mode
Mouse Mode
A gaming user may either use the mode switch to shuttle between modes, or two Quester Joysticks may be plugged into the PC to allow both to be operated simultaneously – for example one could be WASD and one could be Mouse mode. Diagonal movement is enabled by default, but may be turned off if not required.
The switchbox is a wired switch interface allowing gamers a variety of modes for navigation in games. A seventh socket is dedicated to changing Level so the player can navigate between Levels without requiring assistance.

Accessibility In Games
Accessibility options within the games themselves are just as important as the specialist technology mentioned above. In recent years, game developers have begun to take accessibility into account more and added more options within their games. Whilst no game is perfect, especially in terms of accessibility for gamers without sight, The Last of Us 2 is a prime example of what can be achieved with accessibility in games. In 2020, The Last of Us 2 took home the Innovation in Accessibility award at The Game Awards for its multitude of accessibility features, in fact over 60 options. To see a list of all the features, click here. Can I Play That features a fantastic blind accessibility review about this game on their website, discussing several features within the game and how they allow people with visual impairments to complete it without sight assistance. You can find the review here.
Can I Play That is a destination for players and developers alike that provides all forms of accessibility information on video games and the industry. They work to share stories that influence game updates, inform disabled players, educate and entertain players and developers, and provide a voice for one of the largest player bases in the industry.
Throughout the many years of video gaming, people have come together to create guidelines on how video game developers can make the experience of playing games more inclusive and available to a wider audience. These guidelines are extremely important as they outline a straightforward reference for developers to keep in mind and follow to avoid unnecessarily excluding players. Disability is not the only thing that can prevent people from enjoying video games. Many people suffer from temporary injuries such as a broken arm and some have situational impairments such as playing in a noisy room or in bright sunlight. All players have different levels of ability and different preferences – there's no 'typical gamer'. It is important to accommodate the needs of players no matter what difficulties they may face. To read the guidelines, click here.
Games are entertainment, culture, socialising, things that mean the difference between existing and living. For profound impairments this goes even further, with games meaning therapy, pain relief, escapism and independence.