Adapt-IT have been lucky enough to get direct access to the pre-production models of the Rehadapt Wolf Mount system to test out. This range is specifically designed for gaming and portable devices. You pick your mounting options depending on if you want a solution that supports standing usage or sitting and then you select the appropriate mount depending on the device being used.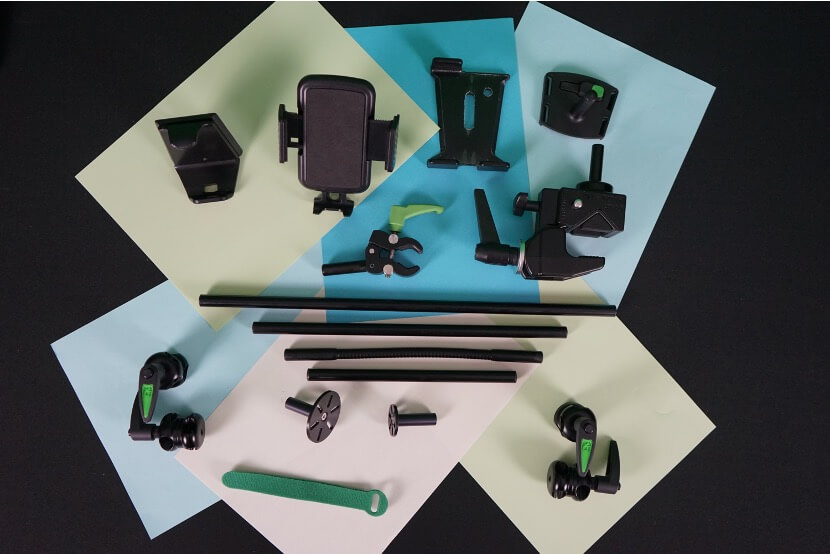 The Wolf Mount range is the new lower price point mounting system aimed at gaming and portable devices.
In our kit we had:
4 x Quick release 3D joints
3 x 12mm Poles of lengths 200mm, 300mm and400mm
1 x 12mm Flexible pole of length 250mm
1 x Heavy duty desk and frame clamp
1 x Portable clamp
And for device mounts, we had:
2 x Assistive switch mounts
Mobile phone mount
Nintendo switch mount
Xbox controller mount
PlayStation 4 controller mount
Xbox adaptive controller mount
We couldn't wait to get our hands on it and try it out! So how did we test the system? We took it to the games room, of course!
Test Summary
We were sent two clamp configurations. A heavy-duty clamp that is part of the main Rehadapt range and a smaller more compact clamp. The clamp from the main Rehadapt range allows for desk edge mount as well as frame mount for wheelchairs or gaming setup. This clamp will sensibly clamp a desk up to 35mm deep or a frame up to 40 mm deep depending on the profile and shape. This is a seriously chunky and heavy-duty device.
At first, we were concerned about how small the lightweight clamp was, but we shouldn't have been.
Its robust construction once tightened held fast and true and it will clamp to a desk of max 30mm depth. The desk in the image is 10 mm for comparison. This easily held the Switch and controller in place. The only downside of this clamp is if you are attaching it to a table that has a curved edge, the clamp may not clamp as solidly as the image shown, but other than that, this is one tough little clamp!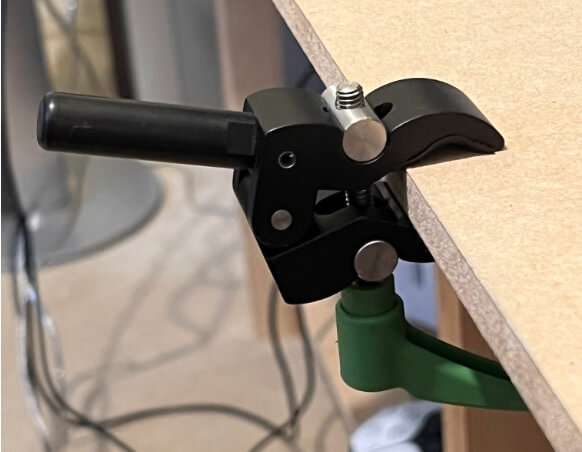 The poles that come in various lengths are very strong but lightweight and the ends of the are poles finished off with a soft plastic stopper. The flexible pole, which allows for easy adjustment of device positioning once the mount system is setup, is incredibly stiff ensuring it remains in place once set. But with the device fitted allows for ease of adjustment by the user.
The 3D joints are very robust and well made. They provide an extremely strong grip and, in our trials, never became loose enabling long term use without the need for further adjustment after setup. Because of the pole thickness the mount does feel spongy when in use (this becomes more the longer and more poles you use); however, this gives the complete system enough flexibility to enable comfortable use without feeling it will break under more robust usage.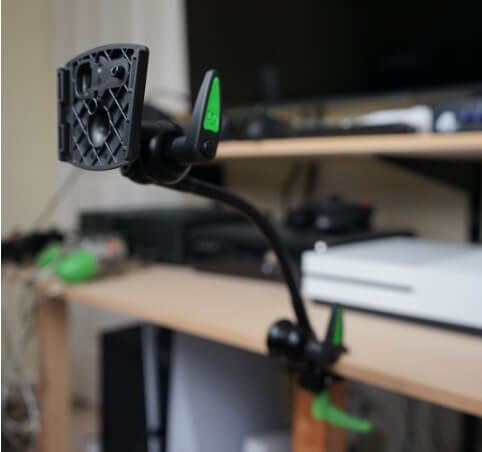 We tried out the mounting system with various different devices to truly test out the capabilities.
Some devices include: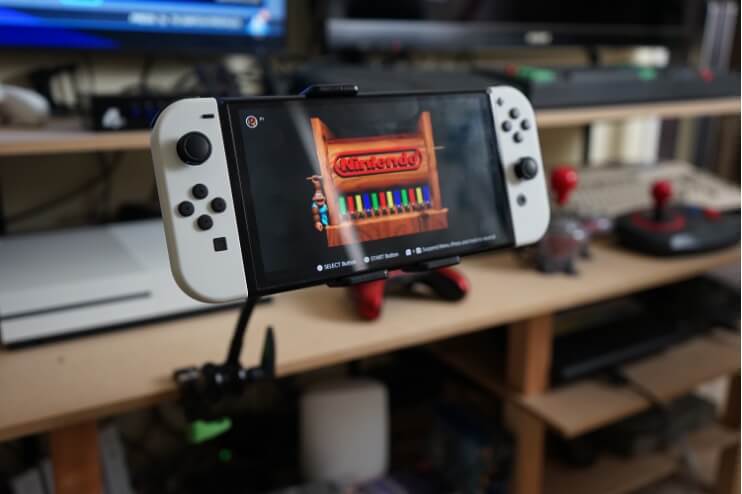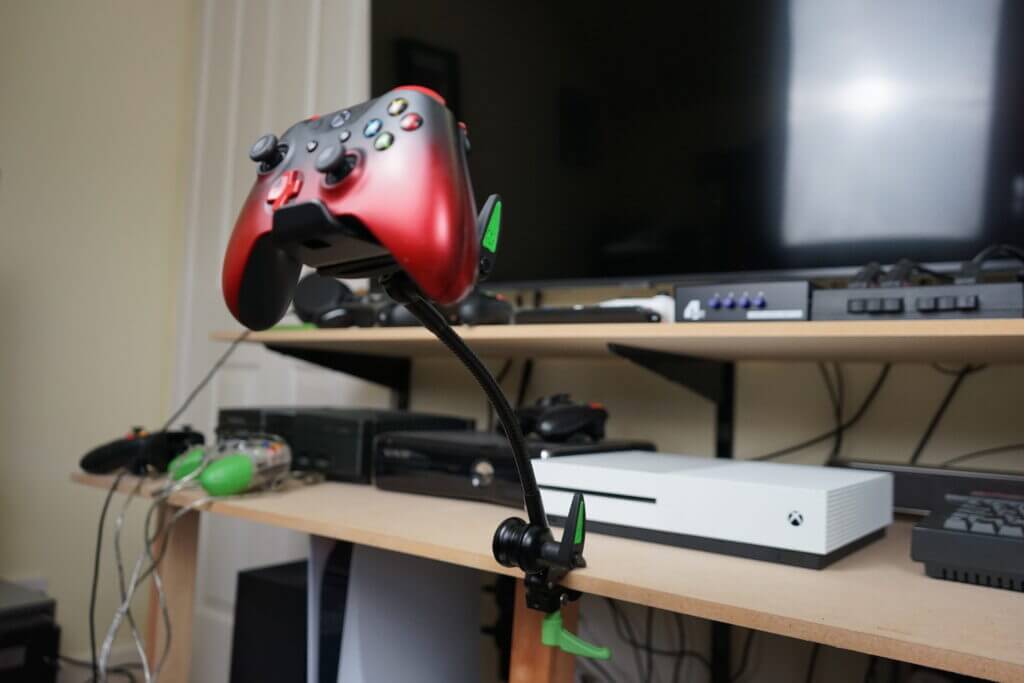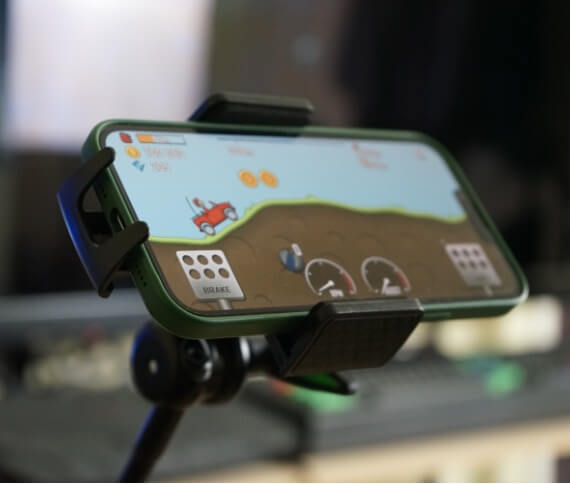 Overall
What the Wolf mount system lacks in cost it certainly doesn't lack in quality. The individual components are made from the same solid construction as Rehadapt's main range, allowing rigidity and ease of use. They have the same attention to detail and precision engineering as the wider Rehadapt range which provides quality assurance and confidence in the products. If you've used Rehadapt mounts before, you know what we mean.
The Wolf mount system is fully compatible with their regular mounting system, making this very flexible enabling interchangeability between devices from all your Rehadapt equipment. The system is also designed for portability and its quick release features allows for quick setup and removal to take with you wherever you go.
The mounts clamp around the device it is holding in a reassuring way and ensures that it will stay in place regardless of the users gaming style. The poles come in multiple lengths and the universal quick release joints can enable infinite mounting positions to suit the users' positioning needs and comfort.
The mount range an allow for seated and standing and because of the ease of adjustment and flexibility you can move between the two positions very easily.
One benefit of this system is that each component is available separately so if you wanted another pole or device mount you can purchase them independently, making the initial outlay an investment on a system that can grow and evolve as and when your requirements change. These mounts are perfect for maintaining devices in a single position which can help avoid fatigue and combat tremors or involuntary movements.
If you require more information or wish to build a mounting solution, contact us!