Product Description
Reading
Reads Microsoft Word and Pages with speech and highlighting so you can follow the text as it is read out by high-quality human-sounding speech.
Reads PDF files with speech and highlighting with the included ClaroSpeak Mac App.
Reads text in email, web pages, and any other program you want by selecting with the mouse, pointing with the mouse, or capturing from the screen.
Read paper documents with scanning (OCR) in ClaroRead Plus.
Read English, French, German, Spanish, Portuguese, Swedish and twenty-four other languages with 80 different voices and accents so you can listen to a voice you like.
Choose highlighting by word, by sentence, any colour, and lots of combinations so you can get just the right one for you.
Word prediction
ClaroRead Plus only
Suggest words as you type to help with spelling and writing.
Prediction all speaks so you can choose the word you want by hearing it.
Pictures in prediction help you choose the right word.
Learns new predictions as you type or train it in a particular subject.
Writing
Listen back to your text after you have written – hear mistakes you can't spot when you read.
Listen to each word or sentence as you type so you can hear mistakes immediately.
Improve spelling by listening the sound of each letter rather than its name.
Spellcheck
ClaroRead Plus only
Speaking spellcheck lets you select the word you want by hearing the alternatives.
Support for homophones and easily-confused words like "there" and "their" and "they're" including images to help you select the correct word.
Advanced phonetic, dyslexic and problem spelling corrections like "neel" (kneel) and "necessary".
Check anywhere, in Mail or Safari or Chrome, not just Microsoft Word.
Add your own confusing and problem words to help you proofread.
Visual
ClaroRead Plus only
Change the font to something you find easier to read in Microsoft Word documents with a single click.
Increase line spacing to stop you getting lost between lines.
Increase space between paragraphs to help separate and understand them.
Increase character spacing to reduce "rivers of white" and help with reading.
Make text bigger to make it easier to read and make each line shorter.
Select colours for text and background that are best for you.
Listening later
Read text into an audio file to listen to later (on your phone, on the move, for study).
Scanning (OCR)
ClaroRead Plus only
Convert paper documents, documents like PDFs or images, into text, accessible PDF or Word for reading and annotation later.
Turn paper and PDFs into plain text for study or annotation.
Dictation
ClaroRead Plus only
Write down the text you speak using the macOS dictation feature.
Automatically listen to your dictated text after each sentence from Microsoft Word, Pages or TextEdit.
Extras
ClaroRead Plus only
Access a wide range of included extra applications from the Extras button. See the What's Included tab detailing these extras.
Edit the Extras list to include apps you use often and websites you visit regularly.
Claro iOS Apps
Included with ClaroRead Plus only
See this support article for information about how to unlock the apps.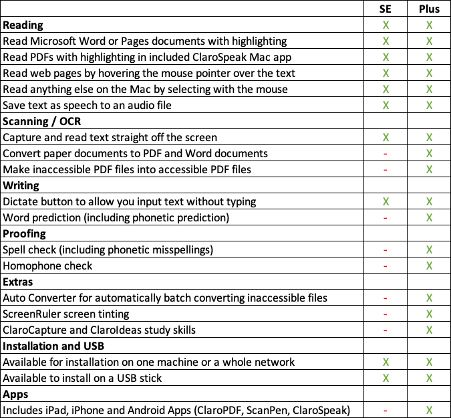 ClaroRead Plus (but not ClaroRead SE) includes all of the following:
ScreenRuler

Reading ruler and screen colour tinter. Helps anyone who has problems keeping focus while reading.

ClaroCapture

Study tool. Capture images and text from web pages and documents to help write essays and organise references.

ClaroView

Screen colour overlay tool. Helps dyslexic students focus on the screen and read.

ClaroSpeak Mac

Read back PDF and Word DOCX files with highlighting.

Auto Converter Mac

Auto Converter takes any document you drop into a special folder and OCRs or scans it automatically to create accessible versions without you needing to do anything else.

ClaroPDF Mac

Read back PDF files with highlighting.

ClaroIdeas

Illustrate your ideas, projects, plans and everything else you can imagine using this intuitive app. Draw and connect ideas, add titles, hyperlinks, images and notes and personalise your ideas.

iPhone / iPad Apps

ClaroRead Plus includes the ability to unlock the pro features in our iOS apps (ClaroSpeak,ClaroPDF and Claro ScanPen).
Found the right software for you?, now let us show you how to maximise its usage with our focussed training packages both F2F and Virtual.
For More information on ClaroRead for Mac or any other product please contact our friendly team
If you have a sight issue you can get further information and support from Sight Support